Abt 1888, W.A. Keeler was in Brownwood, Texas and he sent this photo album to his mother, Mary Ann "Polly" Baker Keeler in Sevier Co TN. He moved back to TN at some point after his divorce from Nancy C. Fox and the album came back into his possession after Polly died. I am uploading the photos from this album in the order they appear, including the backs of some that have identifying marks or writing on them. Most of these photos have not been identified. Some of these people may be members of the connected families of Fox, Baker, Duggan,Webb, Derrick, Shrader, Bird, Proffitt, and Sims, or possibly others, associated with the Keelers in both Tennessee and Texas.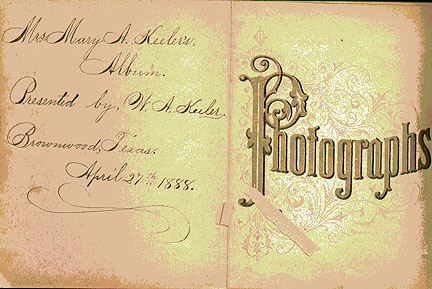 First photo in album
Could be John Duggan Keeler

We believe it is possible that this was Samuel Preston Keeler, since the photo next to it in the album is Samuel's son, Albert Edwin Keeler.

Back of Photo 1


S L Ruffner's Picture Gallery Dandridge Tenn

Back of Photo 2


M C Ragsdale Traveling Photographer Texas

Photo # 4
Albert E. Keeler - Texas

Albert Edwin Keeler was born 30 Jan 1879, son of Samuel Preston Keeler and Martha Elizabeth Seward. In order to lighten the photo enough to see Albert's face, the paper border around the photo appears much lighter than it actually is, and the writing at the bottom is washed out. But it clearly says Albert E. Keeler Texas.